Eyebrow Tattoo aftercare
After having your brows tattooed you may have left your appointment and completely forgotten what your brow technician advised you to do next. Not to worry Cosmetic Tattoo Clinic to the rescue. Following the eyebrow tattoo aftercare is essential for a great result. Firstly what is your skin type?
Dry, oily or combination? If you don't know to figure this out, ask yourself these questions.
Does my skin feel greasy around my T-Zone but not the rest of my face? If you answer yes to this you are combination.
Do you have flaky skin on your face or a skin issue like eczema or psoriasis? If you answer yes to this you are dry.
My skin is aways oily/greasy, my makeup doesn't last the day sometimes ? You have an oily skin type.

Oily Skin Eyebrow Tattoo Aftercare
Oily skin and your eyebrow tattoo treatment, take care.Your skin type can find it difficult to retain pigment, this is because oily skin is already moist by nature and the goal with your aftercare is to keep them DRY. So what should you do? Follow the aftercare for All Skin Types below furthermore, do not put any creams/ointments on your brows let them dry out as much as possible even if they get itchy. Persevere through this stage. Do not moisturise your forehead until the scabbing has finished coming away from the skin. Moisturiser will migrate down your face and effect your results. Opt for another brow application such as a Powder Brow not Microblading. Microblading is not recommend for oily skin another point, you may find your brows take longer than a week to heal.
Combination Skin
Eyebrow Tattoo Aftercare
Ask your technician what they recommend as combination skin can be tricky. The question is how oily is it? Is it extremely oily around your T-Zone. Your Eyebrow Technician should be able to help you with this. Try to apply small amounts of your aftercare don't over do it we want them to dry out an flake off as quick as possible. Follow the aftercare for All Skin Types below.
Dry Skin
Eyebrow Tattoo Aftercare
Apply your aftercare cream twice a day however just gently dab it on, never rub it in. You may find you need a third treatment. At Cosmetic Tattoo Clinic the cost of this is between £20-£25 for our customers. Follow the aftercare for All Skin Types below.
Normal Skin (not oily/ not dry)
Eyebrow Tattoo Aftercare
Apply your aftercare twice a day, morning and night. Follow the aftercare for All Skin Types below.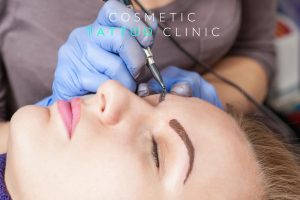 Eyebrow Tattoo Aftercare for All Skin Types
Careful attention needs to be taken when caring for your semi permanent makeup post procedure, within the next 3      days your procedure will lightly scab over then slough away, do not pick or pull at the treated area, and only use aftercare provided. Do not get the area wet or allow the jets of the shower to hit you directly in the tattooed area in the first 7 days.
It will take 24 hours for the area to create a protective barrier; your final colour result will take 28 days. A re-touch cannot in any circumstances take place until 28 days as scarring may occur. Your procedure will take 3 phases,
1) heal, 2) peel, 3) fade. We do not recommend that make up is worn post procedure or during the healing process, if makeup must be worn we recommend Combat Cosmetics minerals with Manuka honey.
Till the scabbing has flacked away avoid, swimming, saunas, steam rooms, hot tubs, heavy sweating.
Avoid sunbeds for a month
DO NOT pick or scratch your eyebrows
If aftercare is not followed procedures will not heal correctly and results will be poor.
 Written by Cara Maitland 
To book an appointment at Cosmetic Tattoo Clinic Manchester click here
For more information on Microblading click here